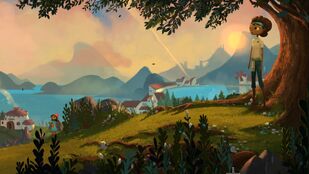 Sugar Bunting is the hometown of Vella in Broken Age. The village is a home to a wide variety of residents. It used to be called "Steel Bunting" around 400 years ago and was noted by Alex to have thought to have a lot of "badasses". According to Brommel, Sugar Bunting had once rebelled against Mog Chothra, but became a town of softies. Sugar Bunting is now a town of bakers. Their method for the Maiden's Feast is to create wearable cake/dresses for the maidens until Velouria Beastender Tartine (Vella) rebelled against the maiden sacrifice tradition.
Residents
Edit
Sugar Bunting used to be called "Steel Bunting".
Sugar Bunting is filled with bakers.
Sugar Bunting was the first town to rebel against Mog Chothra in 300 years.
Ad blocker interference detected!
Wikia is a free-to-use site that makes money from advertising. We have a modified experience for viewers using ad blockers

Wikia is not accessible if you've made further modifications. Remove the custom ad blocker rule(s) and the page will load as expected.